Join us!
Monday thru Saturday Noon to 5:30pm
We invite you!
Experience our hospitality celebrating Wine Club, harvest parties,& events to benefit our local community. 
2019 Viognier – $20
Experience aromas of vanilla, rose petal, and tangerine on this lovely full bodied white wine. 
2019 Dolcetto Rosé – $18
Experience this medium bodied Rosé with complex aromas of orange blossoms, camellias, wild strawberries & watermelon.
2019 Riesling – $14  
This lightly sweet, refreshing, Riesling delivers refreshing aromas of melon, apricot and fresh pineapple.
2019 GSM Rosé – $18
Light and minerally, this crisp dry Rosé has notes of raspberries and strawberries.
2019 Wasem Sauvignon Blanc – $26
Enjoy aromas of passion fruit, fresh citrus, and white peach. 100% locally sourced.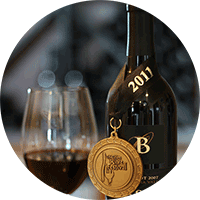 Tasting Room
Our tasting room is open Monday - Friday 11:00 a.m. to 5:00 p.m. and Saturday 12:00 p.m. - 5:00 p.m. Check Facebook for seasonal Sunday hours . Feel free to contact: Tasting Room: (509) 758-6442
If you can't make it to our tasting room to purchase our wine... you can buy our wines ONLINE or at a LOCATION near you.