Join us!
Monday thru Saturday Noon to 5:30pm
We invite you!
Experience our hospitality celebrating Wine Club, harvest parties,& events to benefit our local community. 
2015 Rim Rock Red – $22
Our Rim Rock Blends have consistently won high praise from professional wine judges and wine-lovers alike through out the country. You can't go wrong with this delightful blend.
Accolades:
Double Gold- Wine Press NorthWest
2015 GSM – $36
This traditional blend of Grenache, Syrah, and Mourvédre brings out the best each grape has to offer. Complex fruit, elegant mouth-feel and perfect balance deliver great sipping.
Accolades:
94 pts, "Exceptional"- BTI World Wine Championship
Platinum- Wine Press Northwest
Gold – Harvest Challenge
Editor's Choice / Oustanding – WA Tasting Room Magazine
2015 Estate Cuvée –  $38 
100% locally sourced. Bordeaux- style blend with aromas or toasted coconut, white peach and dark berry.
2015 Wasem Field Blend – $38
100% locally sourced.
2015 Wasem "The Family" –  $26 Sold Out!
100% locally sourced. Enjoy this lovely blend of Tempranillo, Grenache, & Syrah
2017 "Rick's Red" –  $24 
Beautiful blend of Grenache, Syrah, and Mourvédre.
Accolades:
Gold, "Best of Class"- Tri- Cities Wine Festival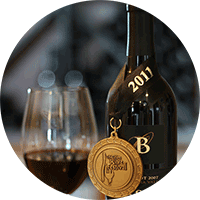 Tasting Room
Our tasting room is open Monday thru Saturday from 12:00 p.m. to 5:30 p.m.. Check Facebook for seasonal Sunday hours . Feel free to contact: Tasting Room: (509) 758-6442
If you can't make it to our tasting room to purchase our wine... you can buy our wines ONLINE or at a LOCATION near you.