Join us!
Monday thru Saturday Noon to 5:30pm
We invite you!
Experience our hospitality celebrating Wine Club, harvest parties,& events to benefit our local community. 
2016 Cabernet Franc – $26 
Medium bodied, moderate tannins, big fruit. Aromas of dark plum, strawberry, and dried herbs. 
2015 Merlot – $30
Aromas of dark plum, currant, cocoa and spice that are followed by generous, textured and full blue and black-fruit flavors that bring a lot of hedonistic appeal. Coffee flavors linger on the finish.
Accolades:
93 pts- Harvest Challenge
Gold- Seattle Wine Awards
2016 Malbec – $28
Aged in partial new oak, this Malbec offers fruity aromas of plum, grapefruit, dark chocolate, and vanilla.
Accolades:
Gold – Seattle Wine Awards
Double Gold– Wine Press NorthWest
2016 Syrah – $36
Bold and lush tannins with aromas of butterscotch, tea, and chocolate silk.
Accolades:
Gold- Tri- Cities Wine Festival
Platinum- Wine Press NorthWest
91 pts- BTI
2016 Cabernet Sauvignon – $36 
Cabernet grapes were sourced from two different vineyards with distinct terroir. The light, fruity characteristics of the Dwelley Vineyard fruit, blended with the structured, dark fruit from Bacchus Vineyard produced this age-worthy Cabernet.
Accolades:
Gold – Indy International
Double Gold- Wine Press Northwest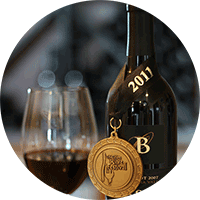 Tasting Room
Our tasting room is open Monday - Friday 11:00 a.m. to 5:00 p.m. and Saturday 12:00 p.m. - 5:00 p.m. Check Facebook for seasonal Sunday hours . Feel free to contact: Tasting Room: (509) 758-6442
If you can't make it to our tasting room to purchase our wine... you can buy our wines ONLINE or at a LOCATION near you.