Join us!
Monday thru Saturday Noon to 5:30pm
We invite you!
Experience our hospitality celebrating Wine Club, harvest parties,& events to benefit our local community. 
Looking to book an event at Basalt Cellars? Our production and barrel room are available to rent for your private party. Give us a call (509.758.6442) for details.
Saturday, June 15th
Event:
Wine & Dinner Cruise with Beamers
Tickets:
509.758.4800
Saturday, February 8th
Event:
Holy Family School Annual Wine & Brew Tasting
Time:
6- 9 pm
$25 per ticket, $30 at the door
Tickets can be purchased at Holy Family School or Basalt Cellars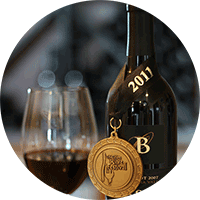 Tasting Room
Our tasting room is open Monday - Friday 11:00 a.m. to 5:00 p.m. and Saturday 12:00 p.m. - 5:00 p.m. Check Facebook for seasonal Sunday hours . Feel free to contact: Tasting Room: (509) 758-6442
If you can't make it to our tasting room to purchase our wine... you can buy our wines ONLINE or at a LOCATION near you.