Join us!
Monday thru Saturday Noon to 5:30pm
We invite you!
Experience our hospitality celebrating Wine Club, harvest parties,& events to benefit our local community. 
2012 Malbec – $28
Layered aromas of cherries, red licorice, dried figs, strawberry jam and cinnamon give way to a palate full of gorgeous dark fruit, mocha, and strawberries laced with vanilla and spice. Soft, subtle tannins deliver a wonderful lingering finish.
Double Gold & "Best of Varietal" Tri Cities Wine Festival
Trade Notes
Buy Now
2012 Barbera – $20
Enjoy this soft and easy, medium bodied Italian varietal, which offers aromas of blackberry, blueberry, pomegranate and spice. Pair with "Cucina Italiana", and savour this wine with your favorite tomato based sauces.
2012 Cabernet Franc – $26
The elegant color of this wine foreshadows the delightful tasting experience to come. Enjoy notes of figs, dates, blackberry jam, and violets in this aromatic wine.
2013 Reserve Malbec – $38
Aged in new oak, this Malbec offers fruity aromas of blackberry, grapefruit, dark chocolate, and vanilla.
Gold- Savor Northwest
Buy Now
2013 Cabernet Sauvignon-$36
Cabernet grapes were sourced from two different vineyards with distinct terroir. The light, fruity characteristics of the Dwelley Vineyard fruit, blended with the structured, dark fruit from Bacchus Vineyard produced this age-worthy Cabernet.
90pts- Wine Enthusiast
Trade Notes
Buy Now
2014 Merlot
Aromas of dark plum, currant, cocoa and spice that are followed by generous, textured and full blue and black-fruit flavors that bring a lot of hedonistic appeal. Coffee flavors linger on the finish.
91 pts- Wine Enthusiast
Trade Notes
Buy Now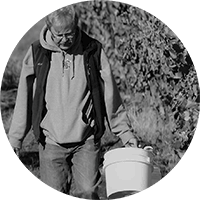 Winemaker Notes
The days are getting shorter and there is a coolness to the morning breeze. What a welcome change after the record heat of summer. While the heat and drought may have been less that pleasant for some of us it has resulted in some apparent benefits to the wine grape crop. Harvest has been 1 to 2...