Join us!
Monday thru Saturday Noon to 5:30pm
We invite you!
Experience our hospitality celebrating Wine Club, harvest parties,& events to benefit our local community. 
2013 Rim Rock Red – $22
Our Rim Rock Blends have consistently won high praise from professional wine judges and wine-lovers alike through out the country. You can't go wrong with this delightful blend.
"91 pts & Editors Choice"-Wine Enthusiast
Trade Notes
Buy Now
2013 Wasem Estate Field Blend – $44
100% locally sourced.
Buy Now
2015 GSM – $36
This traditional blend of Grenache, Syrah, and Mourvédre brings out the best each grape has to offer. Complex fruit, elegant mouth-feel and perfect balance deliver great sipping.
2014 Wasem "The Family" – $22
100% locally sourced. Enjoy this lovely blend of Tempranillo, Grenache, & Syrah
Buy Now
2012 Dessert Wine – $24
This luscious red desesrt wine was made in the traditional old-world style from Syrah and Petit Verdot grapes sourced from Spofford Station in Walla Walla. The exceptional fruit flavor and perfectly balanced sweetness are ideal for pairings with dark chocolate, cheesecake or as a solo sipper.
Gold & 90 pts- San Francisco Int'l Wine Competition
Buy Now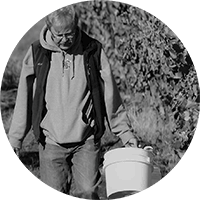 Winemaker Notes
The days are getting shorter and there is a coolness to the morning breeze. What a welcome change after the record heat of summer. While the heat and drought may have been less that pleasant for some of us it has resulted in some apparent benefits to the wine grape crop. Harvest has been 1 to 2...